Taskmill was born out of a dream to make companies more agile, efficient and sensible. The founders of the company, Elina Kervinen and Jutta Glad, are experts in agile leadership who know from their own experience how rationalising and simplifying ways of working can motivate people and make them more efficient.
How Did It All Start?
Elina Kervinen is Taskmill's Co-Founder, CEO and Agile Leadership Consultant. Elina's thoughts about founding Taskmill:
I met Jutta Glad while we were momentarily employed by the same company. For six months, we were driving agile transformation at the company and rationalising ways of working hands-on. Common ground was found immediately: we're both hands-on workers, we do whatever it takes to get the job done and there's a small fighter of windmills in both os us. We both see appreciation of expertise and a great work ethic as the key to success.
However, our time as co-workers soon ended when Jutta changed jobs. I, on the other hand, thought of changing to work for a smaller company after having been employed by several large employers for the past 15 years. However, I soon found myself working for a larger corporation than ever before.
At times, we met with Jutta and reflected on our similar values and united fire for agility and, most importantly, making work more sensible. Many consulting firms at the time saw the so-called agile leadership roles and agile change only as a byproduct when the main focus was on software development. On the other hand, there were consulting firms focused on project management, but in many cases they seemed to be too uptight and ambiguous.
At the company of Elina and Jutta's dreams, working would be a pleasure and employees would be able to achieve meaningful things. There would be no standing on ceremony, unnecessary bureaucracy or empty promises. Every client would receive help in a way suitable for them, while taking into account their starting point, instead of sticking everyone in the same mold. The employees would each be the best in Finland in their respective fields. They would be valued and treated fairly. Subcontractors would be treated like the company's own employees.
That's quite a dream girls! Back to work now!
However, the idea, which started quite cheekily, survived. Through various coincidences in April 2018, we both started working as consultants for different clients on the exact same day. Taskmill Oy had its start!
Many wondered how mothers of small children who were paying off their mortgages dared to leave their jobs and start a company. The answer to this is easily! Our belief in our skills has always pushed us forward. We have also always believed that if we could only get superb top-experts to work together, only the sky is the limit! Of course, we have also put in a lot of work – sometimes too much. However, both of us have always understood that annual holidays are as important for entrepreneurs as they are for any employee – so that we have the energy to keep doing what we do!
Today, Taskmill is an Agile Leadership Company with the best agile experts in Finland and great partners. A huge thank you for the trust to our customers, who have seen first-hand that the key to success is often a skilled agile leader who simply makes it work. Our clients are confident that we can plan and implement a more sensible way of working tailored to them, and we have worked wonders in numerous places.
Our story is just beginning! 💜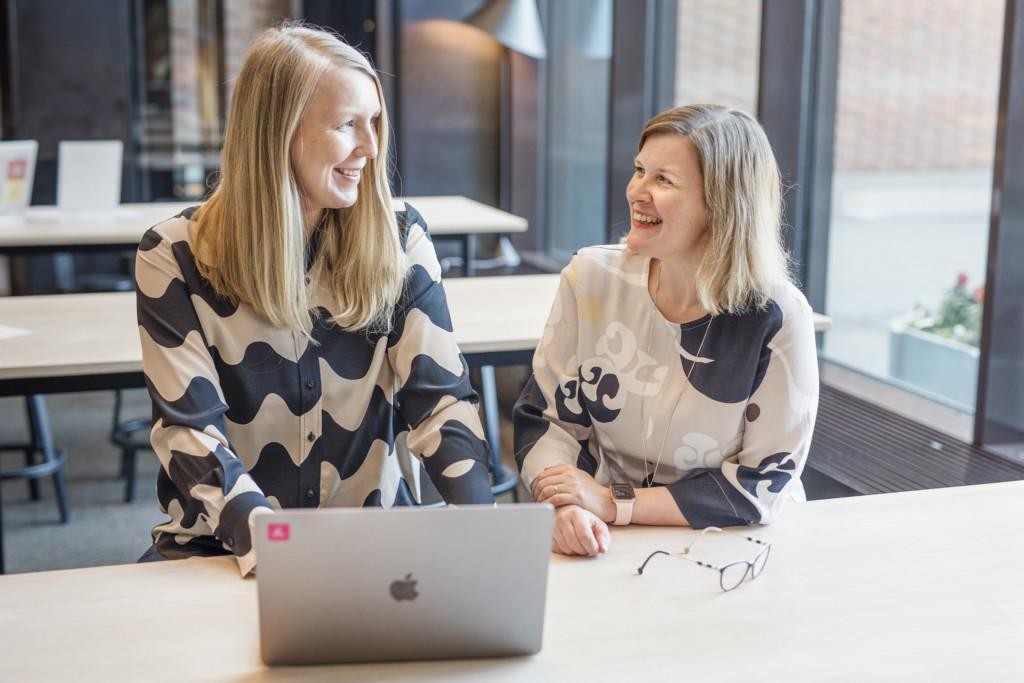 Taskmill's Values
Taskmill has been built together with our employees and as a company we genuinely operate in accordance with the principles of agility. The values that we have defined together are courage, honesty and respecting others. These are the cornerstones of our company and everything that we do. Our values are reflected in our work with customers, employees and partners, for example:
We always treat our customers, employees and partners fairly and our operations are transparent. We understand that people are the most important asset of expert organizations.
We respect our clients and honestly tell them what needs to be done to achieve their goals. We give our work a satisfaction guarantee.
We don't try to fit our customers into the same mold – we are really looking for solutions that take into account the specific features of their organisation. We offer our services to meet a genuine need at the organisation and our goal as consultants is to provide support for our customers in a way that finally makes us unnecessary.
In our work community, sparring is part of the culture and help can be requested at any time. We boldly try new things, for example in internal workshops.